Water and fire damage can be devastating. Once cleanup and repair start on a property, there may have already been significant losses in health or, even more devastating, life. Water and fire can devastate your home or business, so if you're a business serving this need, you know how important it is to have timely information.
When you're busy dispatching in the height of your busy season, you want to know where your equipment is at all times. You don't want to do that only if it is supposed to be en route to a customer site, utilization and maintenance is also important. For a restoration company it is not just about GPS for getting from point A to point B, it is about using your equipment where you need it most.
It's also about being able to answer the important questions, when you need to, and quickly.
How do you get the most out of GPS Tracking for Water & Fire Damage?
Plan ahead so you can increase visibility in advance. Get this set up in advance (and it does NOT take very long at all!)
You will ensure you never get a call with a question you can't answer, you'll be able to get a birds-eye view you can zoom into for more detail when you have Linxup.
Read on to see why damage restoration businesses need GPS tracking to get the most out of the day.
GPS Tracking Reduces Costs
GPS tracking can reduce costs for your business in many ways. With live tracking data available, you get access to speeding and idling information which can allow you to cut fuel costs and reduce overtime costs as well.
GPS tracking for water and fire damage restoration has a significant ROI for your business. One example is using custom alerts, and notifications can track unauthorized or extended trips and ensure employees follow company procedures.
Make sure any work done with your equipment is work that gets compensated. (And who needs the risk of your equipment used in off-hours!)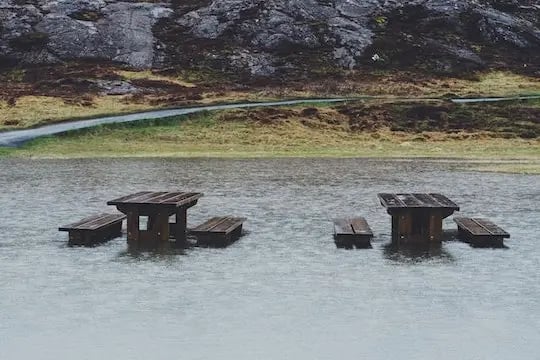 Protection Against False Claims
With vehicle tracking data readily available, it's easy to find evidence against any claims you may get against or by your drivers. With a detailed history of trips taken and information including speed, idling, and stops, you can create a picture of any time in question to find out what happened in the case of an accident.
Exonerate your employees, and avoid lengthy discussions by providing the data upfront and center. And with customers, you can prove work completed if customers claim someone didn't show up or said they didn't spend as long at the job site.
Dispatch Damage and Restoration Services Quickly
A GPS tracking solution makes it easier for dispatchers to locate drivers at all times. More effective routing improves accuracy, reduces appointment time delays, and creates a more efficient business.
Increase Productivity
With easy routing and real-time tracking instantly accessible online, it's like another day back in your week. All the data you receive from GPS tracking devices can also help train employees and improve the efficiency of your overall operations.
You can even incentivize good behavior.
Customer Service Improvements
Customer service is an integral part of business, and GPS tracking can help improve your customer satisfaction. Access to real-time tracking data allows instant insight into where your employees are en route. Your business can streamline the routing process, so customers experience fewer delays and have more opportunities to be delighted.
Feel free to get in touch with our friendly sales team, click here on your phone or dial 1-877-732-4980.