Thousands of Americans have been affected by the catalytic converter theft ring. Nationwide people have been affected. Kurt Mueller is one of them.
When Mr. Mueller headed out to his Hyundai Santa Fe on a bright fall morning, his mind was on a dozen things other than his vehicle. Mueller lives on a busy street corner in St. Louis, and it's not unusual for his car to receive hit-and-run dings and dents. On this particular morning, the car looked great, and Kurt started it up to head to work.
Something was wrong. The loud rumbling noise indicated significant and immediate problems. So rather than heading to work, Mueller headed to his local, trusted mechanic and dropped off the car.
A short while later, he was startled by the text he received and the news that he had been a victim of catalytic converter theft and it would cost $1,182 to fix.
This is a crime that too many Americans have suffered.
And it is a crime that fuels a sprawling shadow market. A market with "a structure and organization to it that you don't see with really any other stolen property at this scale," says Tim Meyer, King County Sheriff's Office spokesperson.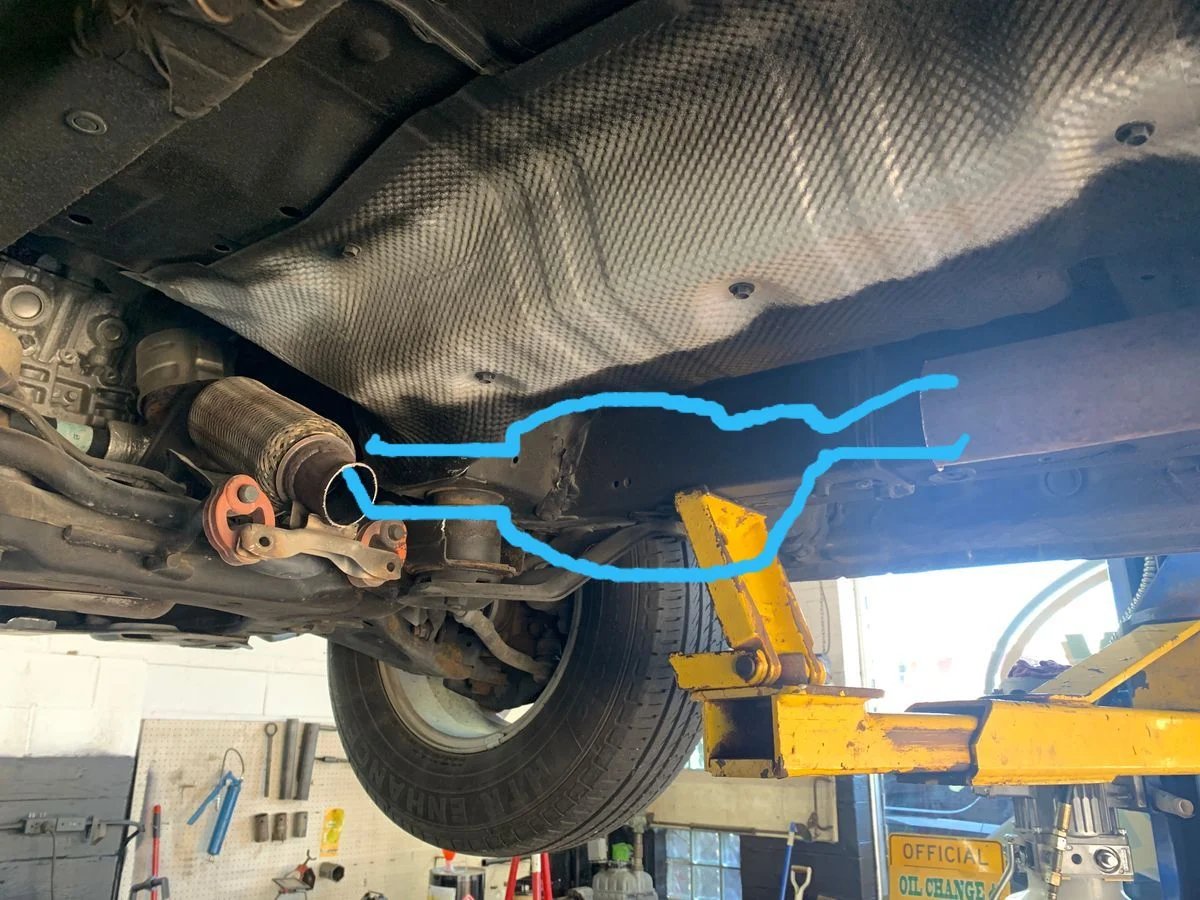 The image shows a vehicle that has had the Catalytic converter removed. The exhaust diagram in the photo shows flanges on both sides where previously was the catalytic converter. Sometimes it is difficult to weld in a new catalytic converter because of the cut's angle and pipe location. Vehicle owners often need to replace the Y pipe to successfully install a new catalytic converter.
Catalytic converter theft is a crime that has been increasing across the nation. According to a report by the National Insurance Crime Bureau (NICB), there has been a staggering 1013% increase in catalytic converter thefts from 2018 to 2020.
In December 2020 alone, the number of catalytic converter thefts outpaced all reported incidents from 2018 by 80%. In just the first five months of 2021, there were 25,969 reports of theft.
In November 2022, vehicle thefts are already up 67 percent from 2021 in Dayton, Ohio.
Catalytic converter theft is still an issue in 2022
State Farm reported that its number of claims for stolen catalytic converters hit 43,219 nationally from July 2021 to June 2022, representing a 109% increase compared with the previous 12 months.
Let's walk through everything you need to know:
What is a catalytic converter?
Catalytic converters clean harmful gases from a vehicle's emissions through chemical reactions.
Most gasoline-powered vehicles included catalytic converters as of 1975. In addition to cars, converters are often included in mining equipment, electrical generators, forklifts, and other gasoline-powered machines.
Catalytic converters reduce the amount of carbon monoxide, hydrocarbons, nitric oxide, and nitrogen dioxide from vehicle emissions. Located under the vehicle, they are built using valuable precious metals, including platinum, palladium, and rhodium. And therein lies the problem.
Why are they being stolen?
Those precious metals inside the converters are costly, and the costs are rising. Inflation, supply chain, the economy, it's cold; the reasons are really a perfect storm in today's climate of work-from-home and mobile workers.
How are catalytic converters being stolen?
Quickly. Very easily, and in about three minutes. A catalytic converter can be removed from a vehicle in under two minutes by some accounts and others report surveillance videos show thieves removing a cat in "as little as 20 seconds."
Thieves are getting more skilled and determined. They're better equipped, better informed, and highly proficient.
The pandemic contributed to the sudden increase in catalytic converter thefts. Still, there's no sign of this abating:
Reduced foot traffic and closed businesses make it less likely someone will notice a thief crawling under a car.




The economic downturn and high inflation correlates to a rise in theft in general.




Prices for precious metals

have been up an average of 26% since 2018



Most frequently stolen catalytic converters
So, which vehicles are most at risk? Technically all of them. But the ones most frequently stolen include:
Toyota Prius




Hybrid vehicles don't run their gasoline-powered engines at all times, so the converters work less and are often in better condition. While all hybrid vehicles are prime targets for thieves, the Toyota Prius is the best-selling and one of the most recognizable models.





Trucks and SUVs


This one is simple—they sit higher off the road and are easier to climb under to remove the converter. Unfortunately for business fleets, one of the popular models being targeted are the Ford F-series pickup trucks.



Vehicles in certain states




Thefts were common in California, Texas, Washington, Minnesota, and Colorado. Colorado, Connecticut, and Arizona saw the most significant spike in thefts.
More regional differences in catalytic converter theft
As of November 2022, these cars are the most targeted for catalytic converter thefts in the Midwest region of the United States:
1985-2021 Ford F-Series

2007-17 Jeep Patriot

2011-17 Chrysler 200

2005-21 Chevrolet Equinox

2008-14 Dodge Avenger

1990-2022 Ford Econoline

1997-2020 Honda CR-V

1999-2021 Chevrolet Silverado
For more regional and Nationwide statistics on catalytic converter thefts, check out the excellent resource compiled by Carfax.
The shadow market and catalytic converter theft
If you're a true crime enthusiast or enjoy an excellent investigative piece, read about the criminal supply chain moving catalytic converters. The qualities of these unfairly profitable enterprises and the processes making them possible are detailed by the journalists at Union-Bulletin.com, one of the best small daily newspapers in the United States.
What can you do to prevent your catalytic converter from theft?
Like anything else you value, you need to protect your vehicle by having eyes on it. When that's not possible, a dash camera is the next best thing to hiring real-life security guards.
For fleet managers overseeing multiple vehicles, a dash cam is essential. For example, on the Linxup Dash Camera (which operates 24/7 and captures motion around cars at any time), the motion-triggered LED light is a powerful deterrent to thieves. The light alone has been effective in keeping away would-be burglars.
In addition to lighting as a deterrent and installing a dash camera, you can also:
Park in well-lit and high-visibility areas when possible.





Park high-riding vehicles next to walls, fences, high curbs, or other low-riding vehicles to make it more difficult to access the undercarriage.





Etch your VIN in the catalytic converter to make it easier to trace if stolen.
Local communities around the country are stepping up to help citizens avoid this type of theft. Tat-a-cat events are usually hosted by a community or police force.
Many more resources are also available to help people avoid this type of theft. The standard advice is to avoid parking for long uninterrupted places like hospital parking garages or implement safe practices at your business.
SUVs and fleet vehicles are some of the most targeted, so be proactive because the cost of waiting is too high.
The most accessible and proactive option is installing a GPS Tracker on your vehicles. Whether for business or personal use, we can get you and all your crews on the right tracker for your needs.
By sharing dash cam footage with police and insurance, you are more likely to be successful in capturing the people responsible and processing reimbursements. (Read more and see how dash cams can help you save on insurance.)
Usually, vehicle insurance with comprehensive coverage covers catalytic converter theft. But it would be prudent to check with your vehicle or fleet insurance provider.
Click to learn more about Linxup and Fleet Tracking solutions that keep vehicles safe and make our customers happy. Reach out to us: click here to call on your phone or dial: 1-877-907-0801.