The California Air Resources Board has been working for several decades to clean up the state's air quality, and their next target is SORE—small off-road engines. This affects gas powered equipment.
These types of engines are found in residential and commercial lawn equipment, some construction and farm equipment, and other types of machines such as generators.
According to CARB, running a gas powered leaf blower for one hour emits as much pollution as a 2016 Toyota Camry does driving for 1,100 miles.
Gas Powered Equipment and Pollution Control
With almost three million more small engines than passenger cars, it's not a surprise the board is now targeting machines with a lack of pollution control devices.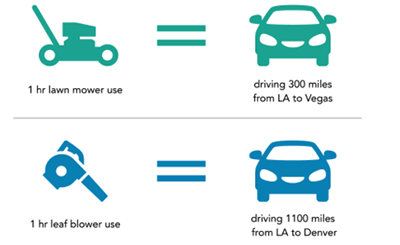 Image by California Air Resources Board
In this article we cover:
What does California AB 1346 do?
The law itself is pretty concise. AB 1346 requires the California state board to adopt new regulations to prohibit dangerous emissions from SOREs by July 1, 2022. Those new regulations will apply to any small engines manufactured after January 1, 2024. It defines a SORE as an engine rated at or below 25 horsepower, so it will not affect most recreational vehicles like ATVs.
It's important to note that the law applies to new equipment sold after January 2024. Existing gas powered equipment can continue to be used until it needs to be replaced. For businesses looking to avoid the heavy cost of new equipment, keeping existing machines in good condition is now more important than ever. Find out how to leverage GPS data to keep your equipment running.
What do you need to do?
You may not need to do anything. If you're using GPS to protect your existing gas powered equipment from theft and keep up with maintenance, keep doing that. But remember that anything you purchase starting in 2024 will need to be electric.
Start planning now

As the regulations are developed, options and functionality are likely to change as well. But have no doubt, electric is the future of the industry. At the recent GIE+Expo, over 20 vendors specialized in electric mowers and equipment.
The National Association of Landscape Professionals (NALP) warns that at this time, the cost of electric or green equipment can be prohibitive for many small businesses. For example, they point out that a commercial riding lawn mower costs $7,000 to $11,000, but its zero-emission equivalent costs more than twice that amount.
AB 1346 requires commercial rebates or incentives be provided to people buying the new, zero-emission equipment and allocates $30 million to that effort.
In addition to new equipment, cost considerations you should start planning for include:
Plenty of spare batteries
Charging stations in workshops
Job schedule adjustments to accommodate charging times
Benefits of green equipment
It's not all bad news. Landscape companies that have already made the switch to green equipment report a number of perks to being an environmentally friendly option.
Growing business

Many zero-emissions landscape companies use their electric equipment as a strong marketing tool. It appeals not only to residential customers with strong environmental beliefs, but also companies looking to tout their own efforts at sustainability.



Quiet please

Electric lawn equipment is considerably quieter than gas powered. Some companies have been able to extend their work hours without fear of disturbing neighborhoods. Gas powered equipment is loud.



Easier maintenance than gas powered equipment

While some actions—such as power cleaning—need a more delicate touch with electric equipment, they generally require far less maintenance and have longer use lives than gas powered.



Fuel costs

Obviously. If you switch to an electric fleet as well, your crews will never need to stop at a gas station again.


Looking for more news and advice on managing your lawn and landscaping business? Visit our Landscape Resource Center for case studies, industry news, and more.
Want to know more about the solutions discussed in this article? Reach out to us, click here on your phone or dial: 1-877-732-4980.