This year has proven to be difficult on many businesses across the country. The pandemic is still an ongoing issue and with the winter season coming up, the numbers are continuing to rise. With the potential for another shutdown to come about within the coming months, it's important to ensure that your fleet is prepared for a crisis. No matter the types of crises, here are a few tips for developing a crisis management plan to make sure your fleet is ready for the unexpected.
What is a Fleet Safety Policy & Why Does Your Business Need One?
Imagine the worst case scenario
It can be uncomfortable to think about the worst thing that can happen to your business, but it's actually a helpful exercise that can both prepare you and give you a sense of peace. Some things to think about when imagining the worst case scenario:
What would happen if your business were to be shut down for an extended period of time?
How would your business recover if a significant amount of customers stopped buying from/using your company's services?
What would happen if your best employees decided to leave the company?
Reflecting on these possible scenarios can help you process what may happen if a crisis were to occur and can also assist with coming up with a possible solution. Just because it hasn't happened doesn't mean it's not a possibility.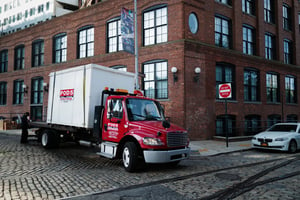 Prioritize driver safety
Your drivers are the ones that are on the forefront of your business on a daily basis. Ensuring that your drivers are safe should be a top priority. When a crisis is occurring, it's possible that your drivers may be working longer hours throughout the day. Keeping in mind that drivers could reach a level of burnout is important so that they don't feel overwhelmed and overworked.
Make sure your drivers have adequate time to rest within their shifts and between their workdays. Also, if the pandemic worsens over the fall/winter seasons, providing your drivers with an adequate amount of masks, hand sanitizer, and other supplies will ensure that your drivers have a healthy and safe work environment.
Communication
During a crisis, it's likely for communication to become chaotic and less productive as your team members are trying to execute their jobs quickly and to the best of their ability. Telematics allow for your
fleet to have an organized look at proper routes, timing of jobs, and proper communication to fleet managers during the day.
When things are hectic in a crisis, it's crucial for fleet managers to be able to see where their fleet drivers are. It's important to be able to have on-hand communication in case there are sudden changes that need to be made.
Keep up with maintenance
The last thing you want to worry about during a crisis is an unexpected vehicle issue that needs to be addressed right away. Preventative maintenance is more important than ever when initiating crisis preparation. Establishing a maintenance schedule using telematics will guarantee that each vehicle in your fleet is already properly taken care of way before a potential issue can occur.